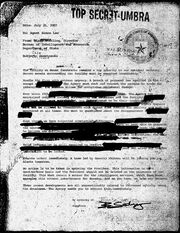 At the 2010 San Diego Comic Con, men dressed in black handed out dossiers that contained a top secret memo from CIA Director Blake Sterling to CIA Agent Simon Lee:
[Stamped:] TOP SECRET-UMBRA



Date: July 21, 2007
To: Agent Simon Lee



From: Blake Sterling, Directory
Bureau of Intelligence and Research
Department of State



Subject: Inostarnka


The facility at Mount Inostranka remains a top priority to our national security. Recent events surrounding the facility must be remedied immediately.


Handle the first with extreme urgency. A breach of protocol has resulted in the escape o(redacted) The Agency must seek and extract the escapee to trade for information. The mission allows for acceptable collateral damage.



Ever since 1944 (redacted) them, The Agency has maintained complete secrecy surrounding the detainees and the facility (redacted) survivors that were apprehended, one demonstrated to be their leader (redacted) Sophia Maguire must not be allowed to communicate with anyone from outside the facility and must be monitored at all times. She must be questioned about the disappearance o (redacted).



Even though we have suspected substantial differences (redacted) have we been able to pinpoint the source (redacted) leads the Agency to believe the detainees are ''(redacted) but we need further information. For this cause, (redacted)



Valid information is still required to confirm (redacted) must not allow any further information to be leaked.



Execute orders immediately. A team led by General Whitman will be joining you in Alaska tomorrow.



No action is to be taken in updating the President. This information is on a need-to-know basis and the President should not be briefed on the existence of the facility. This must remain a matter for the intelligence services, which have been managing this without interference for decades. And as you know, we have our reasons.



These recent developments are all unquestionably related to increased activity among the detainees. The Agency needs you to address this immediately.



By authority of: Blake Sterling
Signature: /S/ B. Sterling
Ad blocker interference detected!
Wikia is a free-to-use site that makes money from advertising. We have a modified experience for viewers using ad blockers

Wikia is not accessible if you've made further modifications. Remove the custom ad blocker rule(s) and the page will load as expected.