Mount Inostranka
First Seen
Last Seen
Where is it
Allakaket, AK, USA
Mount Inostranka is a prison facility and part of a CIA cover-up that may or may not be related to "The Event".
The prison is located is in Alaska and contains research labs, 97 prisoners who are not Americans and their leader, Sophia Maguire.
In Russian, Inostranka (Иностранка) means female foreigner, but it doesn't mean alien in science fiction sense of the word.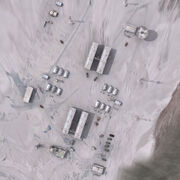 The facility was constructed in 1944 under the direction of Major General Justin T. Randall, Coordinator of Information of the Office of Strategic Services (OSS). General Randall was one of only two people (at the time) who knew the true reason for the construction of the facility. The only other person was Lieutenant Colonel Matthew Beatty of the Pacific Ocean Division of the United States Army Corps of Engineers (USACE). The USACE was charged with building the facility.
In a memo from General Randall dated December 12, 1944, Colonel Beatty was granted a two-week construction delay due to the ground density of the construction site.