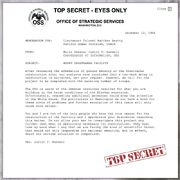 Below is the text of a top secret memorandum concerning the construction of the Mount Inostranka facility:
TOP SECRET - EYES ONLY

OFFICE OF STRATEGIC SERVICES

WASHINGTON, D.C.

December 12, 1944

MEMORANDUM FOR:

Lieutenant Colonel Matthew Beatty Pacific Ocean Division, USACE

FROM:

Major General Justin T. Randall Coordinator of Information, OSS

SUBJECT:

MOUNT INOSTRANKA FACILITY

After reviewing the schematics of ground density at the Inostranka construction site, our analysts have concluded that a two-week delay in construction is warranted, per your request. However, we call for the project to be completed with the existing number of troops.

The OSS is aware of the immense resources required for what you are building in the harsh conditions of the Alaskan mountains. Unfortunately, requesting additional personnel could draw the attention of the White House. The politicians in Washington do not have a mind for these sorts of problems and further escalation of this issue will only cause more delays.

You and I are two of the only people who know the true reason for the construction of the facility and I appreciate your discretion regarding this matter. Do not allow your men to investigate this project any further than what is absolutely necessary for construction. They must take my word when I say that we are facing the kind of scientific threat that would not only jeopardize our national security, but in effect, dwarf our wartime situation in comparison.

Gen. Justin T. Randall
Ad blocker interference detected!
Wikia is a free-to-use site that makes money from advertising. We have a modified experience for viewers using ad blockers

Wikia is not accessible if you've made further modifications. Remove the custom ad blocker rule(s) and the page will load as expected.